So Bern, what is your work about?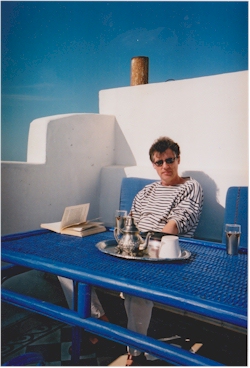 Recently my work is print based and bookart, previously I have made videos and used photography. In the last few years I completed an MA in Fine Art with distinction at UWE Bristol, where I have also completed part of an MA in Print. I also have degrees in fine art, psychology and geology.

I have worked as a teacher and as a child psychologist but I have always been an artist.
recent exhibitions:

2016: Prescriptions, Canterbury Kent New Brewery Arts Cirencester Little Buckland Gallery, Broadway, UK the Letter as Art, Museum in The Park, Stroud SVA Stroud with Stroud Artists Books
2015: Embassy Tea Gallery, group show, London BABE Bristol artists Book Event, Arnolfini, Bristol Without Borders, Museum in the Park, Stroud
2014: Unit 10, MA Print show, Bristol Fringe Art Bath, with alldaybreakfast Wells Contemporary, Wells, Somerset Leeds International Bookfair
2013: Karst, bookart event Plymouth Drawn, Bristol, with alldaybreakfast Holy Souls, group show, Start Project, Bristol BABE Bristol artists Book Event, Arnolfini, Bristol
2012-2013: Bound, touring bookarts show
2012: MA Fine Art Show Motorcade/flashparade Colorida Gallery, Lisbon, Portugal Stockley & Fairhurst, The Milk Thistle, Bristol Ex-graduates show, Hereford College of Arts
2011: The Trial, The Incident Room, Bristol 16, Plan Nine, Bristol Home from Home, Woodhouse Lane, Leeds
2010: 2&8, Railway Workers Social Club, Bristol